Jamee
We chose Kara Cavallo to sell our first home. With only two months to sell before moving, we were concerned it would not sell in time. Kara did everything possible. She answered all of our "million" questions. Passed out fliers in our neighborhood, advertised in the local paper, held an Open House the first weekend after listing our property. Our property was under contract within 8 days. We appreciate the way Kara communicated with us during the entire transaction. With Kara handling our sale, we did not worry about anything. She gave us "Peace of Mind".
---
Mark and Amy
You made the purchase of our first home very easy. You answered all of our many questions! We appreciate everything you did to make this process enjoyable!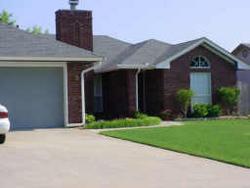 ---
Patti
Kara, I could never thank you enough for all that you have done for me and my daughter. We really, really, love our new home! (I know that I am always telling you that!) After all we went through a year ago, I never thought we could ever be this happy again. I appreciate all that you did to sell our former home. What a birden lifted! I know that God meant for me to meet you that Saturday afternoon! You are the best!
---
Matt and Lou Campbell
January 7, 2009

Dru Lee
905 24th Avenue N.W.
My husband, Matt, and I would like to tell you about our memorable experience with one of your agents, Kara Cavallo. Due to a mandated military move, I had to relocate in July of 2007 from Oklahoma to my current residence in Maryland. At that time we employed the services of another real estate agent from another nationally known company, having been under the impression that we would receive excellent service. Unfortunately we did not sell our home within sixty days, so we decided to rent it to a tenant instead.
In October of 2008 we returned to our home which was recently vacated by our tenant, where we found our once well-kept and beautiful home in disarray and deplorable conditions. We immediately began the clean-up and refurbishment process while simultaneously searching for another realtor. Through various referrals we were given the opportunity to work with Kara.
What a difference Kara made not just in the successful sale of our home, but in our lives, especially during the period that our home was being prepared, and finally listed. Understanding that we had a limited amount of time to be in Oklahoma to restore our home to marketable standards, she facilitated our efforts with referrals to various services that proved to be valuable and cost-effective for us. Additionally, she demonstrated an "above and beyond" attitude in light of the fact that we weren't going to be available locally to complete the sale. I've not met or heard of any other realtor who has worked as hard as she has, or who has committed as much time and attention towards the home of strangers. We're sure that any other realtor would not have paralleled her tenacity or drive, nor her friendliness and willingness to succeed. Our experience with Kara has been a blessing, and we're sure that these unique characteristics are what contributed to the successful sale of our home. With that, we must express our heartfelt gratitude. Thank you so much for the excellent service, and we will be sure to refer our friends and family to your company, and especially to Kara Cavallo.